New Year Resolution! A Beach Body with Sculpsure?
Posted by Dr. H. on February 28, 2017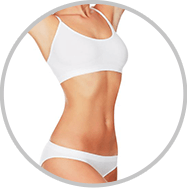 Right around now is when everyone starts losing their momentum on their new year's resolution to lose weight. Most of us set weight loss goals that are impossible to reach in 6 or 8 weeks and so we become disappointed and we lose momentum and we stop trying. Don't throw in the towel! One thing that can help you stay on your weight loss plan and motivate you to keep going until you lose the pounds you envisioned is to try a fat reduction and body contouring laser like SculpSure
Sculpsure is the easiest, most effective fat reduction laser I've ever seen and my patients are seeing great results after treatment. Some of my patients tell me that having the SculpSure treatment gave them the boost they needed to not to give up on their weight loss and fitness goals, that seeing the results only inspired them to continue to shed pounds. Many of my patients have reported that the SculpSure treatments put them right where they wanted to be, without diet or exercise, so Sculpsure to the rescue!
Watch live demonstration of SculpSure Treatment