Non-surgical rejuvenation and resurfacing treatments can reduce signs of aging considerably. Dr. Hellman explains the difference between Fraxel and Fractora or Morpheus 8:
Laser vs. Radiofrequency Technologies
Doctors use Fraxel, Fractora, and Morpheus 8 devices to provide fractional treatments at different wavelengths. Fraxel lasers use light energy, whereas Fractora and Morpheus 8 use radiofrequency wave energy (RF) to heat up specific skin layers, stimulate the regenerative process and build new collagen.
Fractora and Morpheus 8 combine RF waves with microneedling technique for even better results. Unlike Fraxel laser, Fractora and Morpheus 8 can be used on all skin types safely – on light and darker tones up to skin type VI with no risk of post-inflammatory hyperpigmentation. Fraxel lasers, which emit different wavelengths, are only suited for lighter skin types and carry a significant risk of pigment changes and scarring due to the Fraxel skin resurfacing process.
All of these devices are designed to treat a fraction of the skin at a time; the "fractional" technology treats tiny areas without affecting the surrounding tissue. This makes healing much faster and reduces downtime.
| | | |
| --- | --- | --- |
| Device | What it treats | Recovery |
| Fraxel Repair, Fraxel Dual and Fraxel Restore laser devices | Severe signs of skin damage; deep-set wrinkles and frown lines; dull and uneven skin tone; Irregular pigment issues, such as melasma and brown spots; fine lines and wrinkles around the eyes; acne and surgical scars. | The stronger Fraxel lasers result in 7-10 days before patients can comfortably return to normal activities. The skin may still be red and swollen for a few weeks post-treatment.Lighter treatments cause several days of sunburn like redness and peeling after a treatment. |
| Fractora & Morpheus 8 RF devices | Photodamage; fine and deep lines on face neck and chest; uneven skin texture; loose sagging skin; large pores; pigment irregularities; scars; blood vessels and redness. Wrinkles; stretch marks; cellulite; cystic acne and acne scarring; skin texture; discoloration (pigmentation and age spots). Suitable for face and body. | Recovery is easy, with minimal downtime.The skin will feel tight and tiny needle scabs from the micro-pins May appear on the skin for 2-3 days. |
Ask a question
Board Certified Dermatologist,
Dr. Hellman performs all treatments herself
Before & After Photos
---
*Results may vary
Unlike fractional laser technology, which can produce post-inflammatory hyperpigmentation and scarring, radiofrequency energy does not carry the same risk of post-treatment discoloration. Both Fractora and Morpheus 8 can also address a broader range of issues in comparison with Fraxel and patients report results are comparable or better than fractional lasers.
How Many Treatments Are Necessary?
With Fraxel Repair, patients experience significant results in just one treatment. When opting for Fraxel Dual or Fraxel Restore, you can expect to see results in 3 to 6 sessions, spaced 2 to 4 weeks apart. We recommend 4 to 6 Fractora sessions to achieve optimal results. These results are typically visible within 2 weeks of treatment. Patients continue to see improvements in their results for up to 3 months after the procedure is complete. Morpheus 8 patients usually need 1-3 treatments to see the best results, spaced 4-5 weeks apart.
Schedule a consultation to find out what is the best treatment option for your skin.
Fractora vs. Morpheus 8
These treatments are quite similar as they both use a combination of radiofrequency with microneedling. However, they are applied for different purposes. Morpheus 8 penetrates deeper into the skin and is best suited for skin tightening and rejuvenation as well as scar treatments. Fractora is a good choice to improve skin texture, fine lines, wrinkles, and acne scars. The depth of treatment with Morpheus 8 is adjustable, so it's suitable for treatments on the body, while decreasing the downtime on the neck and face.
Morpheus 8 technology allows Dr. Hellman to treat the skin at variable depths within one session whereas Fractora works at a set depth. In the body, for example, she treats at a depth of 7mm, whereas around the eyes she only handles the top 2-3mm of the skin. Morpheus 8, the next generation of the Fractora device, uses a matrix of micro pins (4000 microns) with mechanical tips that allow for great precision. Dr. Hellman has greater control when she uses Morpheus 8 and treatments result in uniformly rejuvenated skin. Morpheus 8 is also an excellent option for patients who wish to tighten skin in their face, neck or body. Dr. Hellman's patients have also seen great results when the Morpheus 8 was used to reduce cellulite and smooth skin texture.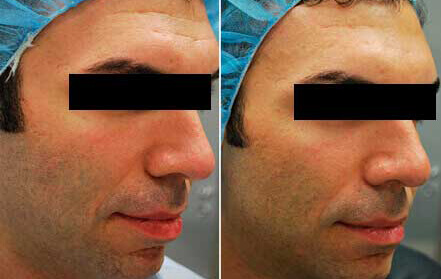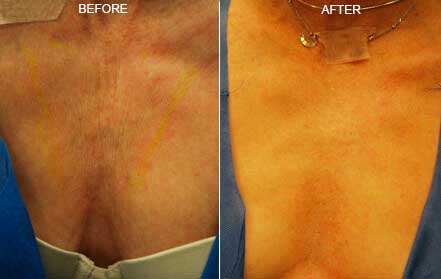 Why Choose Dr. Hellman for Your Procedure?
At Hellman Dermatology, we work with each individual patient to ensure that they receive the right treatment for their condition. Dr. Hellman evaluates every patient and creates a detailed treatment plan tailored to their individual needs. If you would like to learn more about the best skin resurfacing treatment for your skin, contact the office of Dr. Hellman today.
Schedule A Consultation
For further assistance regarding any of our procedures,
Call Us Today (212) 751-0577