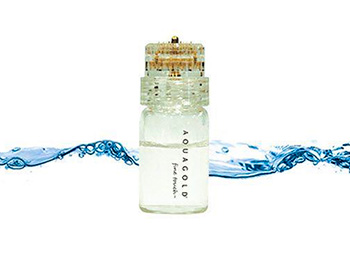 TAKE ADVANTAGE OF OUR SPECIAL OFFER: $500 OFF OUR LATEST TECHNOLOGY*
Reduce pores and treat deep wrinkles in hard to reach areas of the face, neck and décolletage for smoother, clearer skin.
* Offer in effect until February 13, 2023
** Cannot be combined with any other offer
AquaGold Fine Touch is the latest technology in micro-needling in NYC. Board-certified cosmetic dermatologist Dr. Judith Hellman uses AquaGold Fine Touch to treat deep wrinkles in hard to reach areas of the face, neck, and décolletage for a smoother, clearer complexion. AquaGold's innovative technology allows it to restore your healthy glow by delivering customized doses of nutrients, skin boosters or dermal fillers deep into the skin.
The best part is that AquaGold in NYC isn't a complex procedure, so there is no recovery time. This procedure can help improve the appearance of your skin by:
Restoring your skin to its youthful, firm appearance
Smoothing out wrinkles and fine lines
Improving the appearance of sagging skin
Returning your skin's natural glow
Reducing pore enlargement
Dr. Hellman specializes in non-surgical cosmetic treatments that rejuvenate your skin while preserving your natural look. With a beautiful office conveniently located in Central Park South, she offers her expertise to hundreds of New Yorkers who are looking for the latest aesthetic skin solutions. Furthermore, Dr. Hellman is a board-certified dermatologist and devoted medical researcher, so she actively contributes to the development of innovative techniques. She has more than two decades of experience and takes the time to meticulously study new technologies like AquaGold, which she makes available to her patients at her NYC clinic.
Contact Us Today
How AquaGold Microneedling Works
The handheld device uses 20 microscopic needles, which deliver a combination of Botox or Dysport (a chosen neurotoxin) with Restylane, or Juvéderm (a chosen type of HA filler). The mixture is individually suited to each patient's aesthetic goals. The stainless steel microneedles are coated with 24 karat gold to avoid skin irritations. The microneedles deliver the chosen mixture into the skin at the recommended 600-micron depth and are finer than a human hair. Furthermore, they are designed with inner channels, which allow the contents to be released into the skin in a quick, efficient, and pain-free manner.
Why choose AquaGold Micro-Needling
Dr. Hellman recommends AquaGold microneedling to treat dryness, enlarged pores, fine lines, and wrinkles. It can also be used to enhance laser treatments such as Fractora, by allowing micro serums containing growth factors to be applied to the treated area. A new AquaGold applicator is used for each client making the entire procedure safe and sterile.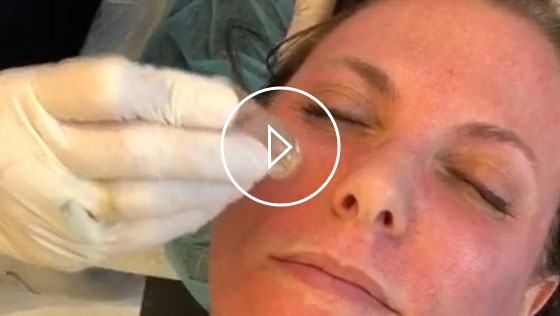 Dr. Judith Hellman explains the benefits of using Aquagold Fine Touch
Contact Us Today
At our office, Only Board Certified Dermatologists See Patients & Perform Treatments
Benefits of AquaGold
AquaGold microneedling in New York is a painless procedure with zero downtime, making it a perfect option for those on a tight schedule. This treatment is minimally invasive, which means there are almost no signs of the injections, making the technique of the procedure practically invisible. Furthermore, the device is designed in a unique way that stops microtears and bleeding from occurring during the procedure. In addition, AquaGold can reach areas of the skin that a traditional applicator cannot. For example:
The delicate lower eyelid area
Upper lip lines
The décolleté
Its unique technology provides patients with a safe treatment experience that offers long-lasting results.
What Conditions Can Be Treated with AquaGold Micro-Needling?
As we get older, our entire body goes through an aging process and our skin is no exception. Collagen and elastin are the two compounds that give the skin its youthful, radiant appearance. At around age 25, our body stops producing vast amounts of elastin and collagen. After a few years, it is normal to start noticing fine lines, wrinkles, enlarged pores, dryness, and more sensitive skin.
For patients, AquaGold microneedling in NYC helps eliminate these signs of aging in a natural way. This micro-needling technique stimulates the body's healing response, so your skin starts producing more collagen and elastin. This treatment can be used to address:
Enlarged pores
Dry, thin or weak skin
Wrinkles in difficult to reach places
Fine lines and sagging skin
Dull and unhealthy skin tones
Who is the Ideal Candidate?
AquaGold microneedling is suitable for almost all skin types and complexions. In general, treatments are ideal for adults of all ages, so you can start addressing signs of aging as soon as they are visible. However, they may not be recommended for people with certain skin conditions or pregnant women.
Risks Associated with AquaGold
Despite the fact that AquaGold is not considered invasive, there are still some risks and mild side-effects that may occur after each session. These include:
Irritation in the injection area
Temporary pain and sun sensitivity
Redness or peeling
If you are looking for AquaGold in New York, working with an experienced dermatologist with a proven track record, such as Dr. Hellman, will reduce the chances of negative results.
Results and Recovery Expectations
AquaGold microneedling is considered a minimally invasive procedure and is virtually painless. The vast majority of patients can return to their daily activities as normal. However, it is recommended to avoid high-intensity physical activities for 24 to 72 hours. AquaGold treatment is safe and rarely produces side-effects.
Why Choose Dr. Hellman for AquaGold Treatment in New York
At Hellman Dermatology Group, Dr. Hellman and her entire medical team share a common goal of providing patients with superior dermatological and cosmetic skin solutions. As an expert in the field of dermatology and cosmetic skin treatments, Dr. Hellman combines her medical expertise with the most innovative and advanced technology. Her extensive experience allows her to offer patients an opportunity to restore their natural beauty while customizing each treatment according to the patient's needs and aesthetic goals. For more information regarding how you can include AquaGold microneedling in your next treatment, make an appointment for a consultation with Dr. Hellman.
Schedule A Consultation
For further assistance regarding any of our procedures,
Call Us Today (212) 751-0577