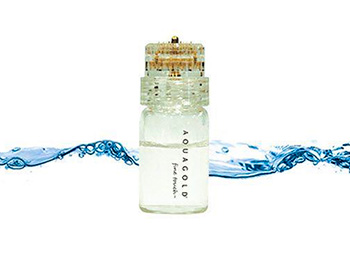 CELEBRATE MOTHER'S DAY WITH $500 OFF OUR LATEST TECHNOLOGY*
Reduce pores and treat deep wrinkles in hard to reach areas of the face, neck and décolletage for smoother, clearer skin.
* Offer in effect until May 31, 2018
** Cannot be combined with any other offer
AquaGold Fine Touch is the latest technology in micro needling, which Dr. Hellman uses to treat deep wrinkles in hard to reach areas of the face, neck and décolletage for a smoother, clearer complexion. AquaGold Fine Touch's innovative technology allows it to restore your healthy glow by delivering customized doses of nutrients, skin boosters or dermal fillers to the skin.
A board certified dermatologist, Dr. Hellman specializes in medical dermatology, dermatological surgery, laser surgery and anti-aging skin treatments. With a conveniently located office in the center of New York City, Dr. Hellman is proud to offer her expertise to hundreds of New Yorkers who are looking for advanced, expert therapeutic and aesthetic skin solutions. Dr. Hellman is pleased to offer AquaGold Fine Touch to patients in order to provide the highest quality, cutting edge, anti-aging and rejuvenating skin treatments currently available.
How it works
The handheld device uses 20 microscopic needles, which deliver a combination of Botox or DysPort (neurotoxin) with a chosen type of HA filler (Restylane, Juvederm). The mixture is individually suited to each patient's needs. The stainless steel needles are coated with 24 karat gold to avoid skin irritation. These needles then deliver the chosen mixture into the skin at the recommended 600 micron depth. The needles are finer than human hair and they are designed with inner channels, which allow the contents to be released into the skin in a quick and efficient manner.
Why choose AquaGold Fine Touch
Dr. Hellman recommends AquaGold Fine Touch to treat dryness, fine lines and wrinkles. It can also be used to enhance laser treatments such as Fractora, by allowing micro serums containing growth factors to be applied to the treated area. A new AquaGold Fine Touch applicator is used for each client making the entire procedure safe and sterile.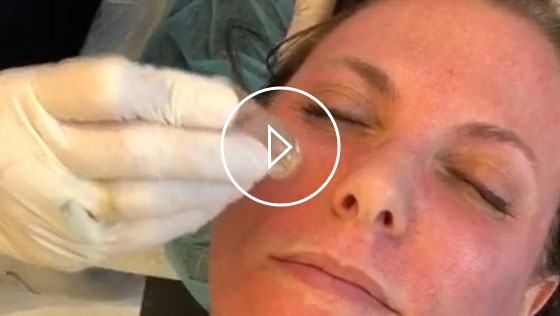 Dr. Judith Hellman explains the benefits of using Aquagold Fine Touch
Benefits of AquaGold Fine Touch
AquaGold Fine Touch is a painless procedure with zero downtime, making it a perfect option for those on a tight schedule. The fact that this treatment is minimally invasive means there are almost no signs of the injections, making the technique of the procedure practically invisible. Furthermore, the device is designed in a unique way that stops microtears and bleeding from occurring during the procedure. In addition, AquaGold Fine Touch can reach areas of the skin that a traditional applicator cannot such as the delicate lower eyelid area, the upper lip lines, the décolleté and others. Its unique technology provides patients with a safe treatment experience that offers long lasting results.
AquaGold Fine Touch in New York
At Hellman Dermatology Group, Dr. Hellman and her entire medical team share a common goal of providing patients with superior dermatological and cosmetic skin solutions. As experts in the field of dermatology and cosmetic skin treatments, Dr. Hellman combines her medical expertise with the most innovative and advanced technology. Her extensive experience allows her to offer patients an opportunity to restore their natural beauty, while customizing each treatment according to the patient's needs and aesthetic goals. For more information regarding how you can include AquaGold Fine Touch in your next treatment, make an appointment for a consultation with Dr. Hellman.
Ask a question
At our office, Only Board Certified Dermatologists See Patients & Perform Treatments
Schedule A Consultation
For further assistance regarding any of our procedures,
Call Us Today (212) 751-0577