Board-certified cosmetic dermatologist Dr. Hellman is the most experienced physician in New York with InMode technologies and she often lectures to doctors around the world and trains her colleagues in using industry-leading technologies like Evoke. At her office, she combines Evoke with other lasers and injectables to refresh and rejuvenate your look while maintaining your natural appearance.
Contact Us Today
How Does Evoke Work?
Evoke is a cutting-edge non-invasive device that can contour the neck and parts of the face without needles. The safe and effective device uses bipolar radiofrequency (RF) energy, which promotes the rearrangement of tissue underneath the skin that can result in more defined features. Dr. Hellman also uses the RF waves to target small fat deposits – the fat cells die without harming surrounding tissues and your body naturally flushes the dead cells out over the next few weeks. Patients usually need a set of six Evoke sessions for optimal results. This treatment is ideal for all skin types and perfect for anyone who wants to reduce mild to severe signs of aging.
Before & After Photos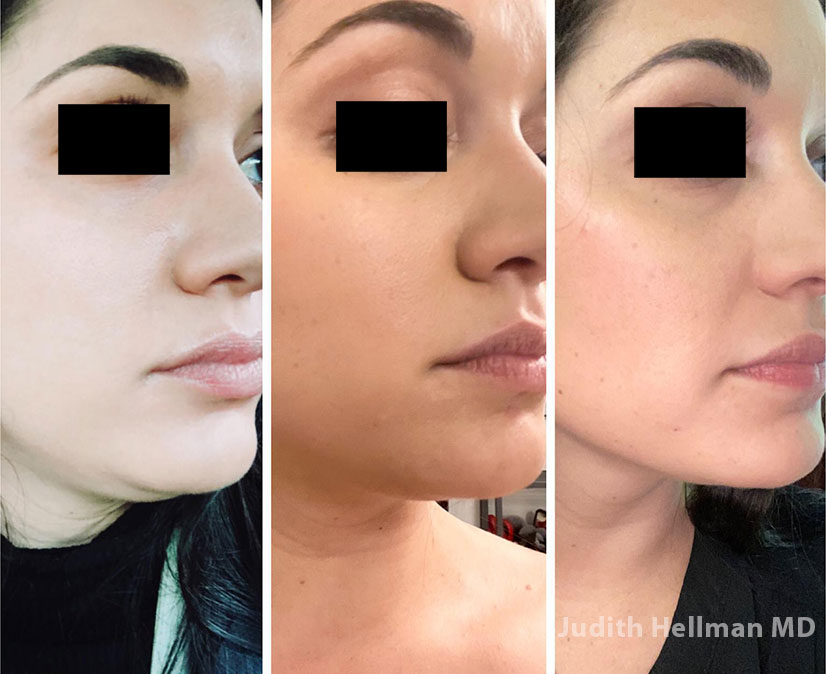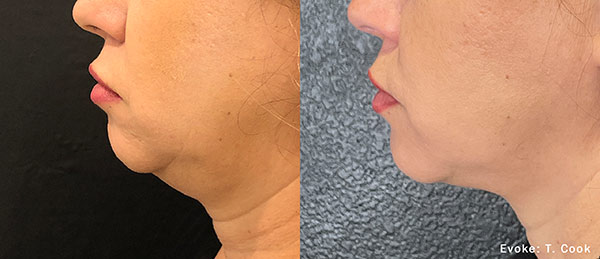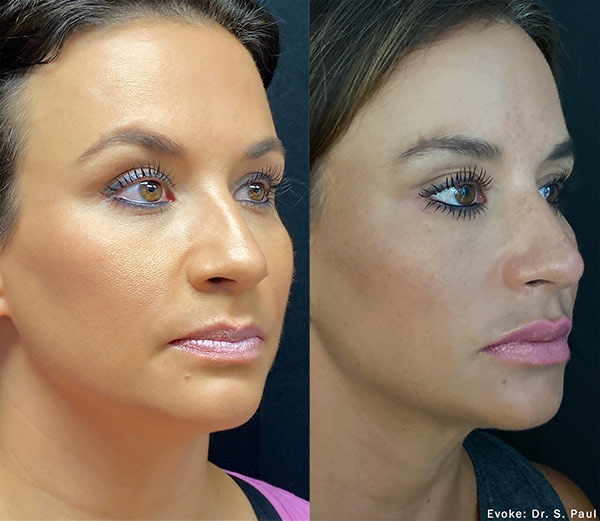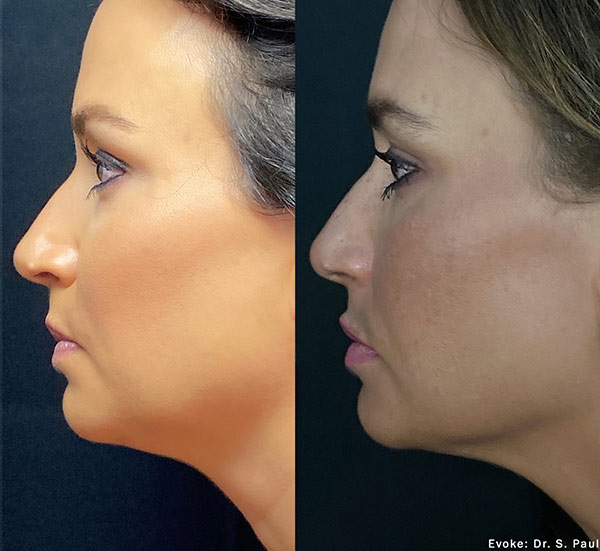 Ideal Candidates for Evoke Treatments
Patients with double chins who prefer not to undergo a surgical procedure or dozens of injections
Patients with a droopy jawline who want to avoid a surgical lower facelift
Patients who feel their faces are too round would like to achieve an oval face shape by narrowing the jaw and cheek areas. This is commonly known in Asia as a "V Face" treatment.
Patients with deep smile lines will experience a lift and tightening of the nasolabial folds. Evoke will force your body to manufacture new collagen to tighten your skin.
Evoke- Face & Neck Contouring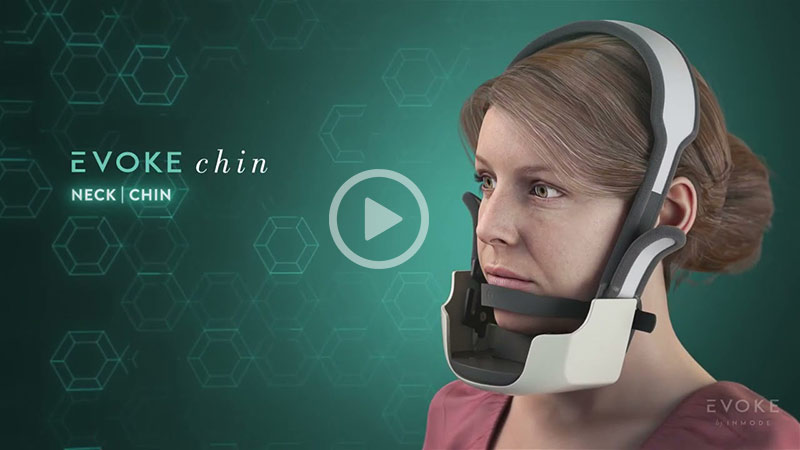 The Benefits of Evoke Treatments
Evoke treatments provide a natural, rejuvenated appearance without the need for surgery, and do not require long recovery times.
A quick and painless procedure
Ideal for all skin types
Safe and effective
Removes and reduces fat deposits in the neck, chin, cheeks, and other areas
Encourages the production of new collagen
Completely customizable
Uses a hands-free applicator to ensure even application
Why Choose Dr. Hellman for Evoke Treatments in NYC?
As a board-certified cosmetic dermatologist, Dr. Hellman draws from her decades of training and hands-on experience as a dermatologist and medical researcher. Dr. Hellman is very experienced in InMode's RF devices and has the artistic eye to carefully calibrate Evoke to achieve the best results for each patient.
To learn more about this treatment, contact Hellman Dermatology or call (212) 751-0577.
Contact Us Today
At our office, Only Board Certified Dermatologists See Patients & Perform Treatments
Schedule A Consultation
For further assistance regarding any of our procedures,
Call Us Today (212) 751-0577