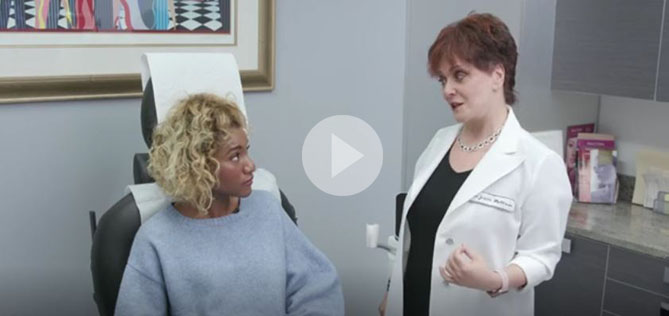 Dr. Hellman featured on BET TV performing the InMode Bodyfx procedure.
The BodyFX is a fat reduction new tool that also works to tighten the skin, helping to prevent the "dangling" loose skin effect that may occur after successful fat reduction treatment. The technology is based on radiofrequency (RF).
Fat Reduction with BodyFX
Radio frequency energy selectively heats fat cells, leading to their destruction.
Fat cells are eliminated in controlled and gradual manner through the body's own mechanisms.
Skin Tightening with BodyFX
The radiofrequency energy of the device translates into heat energy when introduced to the skin tissue.
Unlike other methods which use low temperature to only freeze and reduce fat, the controlled high heat energy emitted by Body FX not only reduces fat, it helps tighten the skin.  This helps  to minimize loose, wrinkly skin that may result after the fat is eliminated.
BodyFX involves no downtime. Patients may experience some tolerable minor redness lasting only a short time.
BodyFX is often compared to Coolsculpting, which is one of the most popular non-surgical treatments to remove fat. Coolsculpting freezes fat cells in order to destroy them; BodyFX, on the other hand, heats up these cells but the end result is the same. However, the heat process of BodyFx can provide the added benefit of firming the skin. Another point of consideration is that a recent article in Cosmetic Surgery Times discusses complications that occurred in patients following Coolsculpting. A doctor who is familiar with the technology explains that "potential complications with cryolipolysis include skin damage, leading to ulceration or scarring; prolonged or severe pain; abrupt fat layer changes, including 'step-off' changes; and paradoxical adipose hyperplasia." (This means, an unexpected fat deposit appearing instead of it being reduced.) BodyFX is milder treatment and you are invited to schedule a consultation with Dr. Hellman or talk to our patient coordinator at (212) 751-0577 to find out more about the pros and cons between each of the procedures.
Ask a question
At our office, Only Board Certified Dermatologists See Patients & Perform Treatments
Before & After Photos
---
*Results may vary
FAQ's
---
Is BodyFX Right For Me?

If you are looking to reduce fat in the abdomen region and/or treat the back and buttocks, FDA-cleared BodyFX may be right for you.  In some cases, the device may be used to improve the contour of the neck, arms, and area around the knees. For optimal results, we recommend 8 treatments, spaced a week or two apart. Since it takes time for the fat to gradually disappear, we usually expect to see final results at 2-3 months after the treatments commence, and up to 2 months after they are done. For patients with a greater need to circumference reduction, the series can be repeated as needed. BodyFX is not a substitute for a healthy weight loss program or treatment for obesity.
Schedule A Consultation
For further assistance regarding any of our procedures,
Call Us Today (212) 751-0577