Sculpt Your Body – Now Offering a FREE Consultation! Call (646) 760-8344
Spring Special Price: $249 Per Applicator. Valid until 07/31/18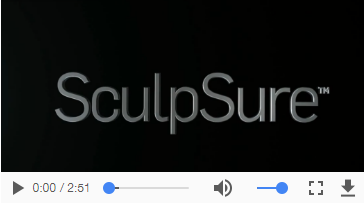 Reduce stubborn body fat – no surgery, no freezing
No surgery, no downtime, 25-minute treatments
Right in the heart of New York City, next to Plaza Hotel
If you're tired of battling stubborn body fat and live in New York, SculpSure may be the ideal solution for you. This revolutionary treatment uses laser energy to destroy fat below the skin's surface. Unlike liposuction, SculpSure requires no incisions or anesthesia and patients can resume normal activities immediately. SculpSure was approved by the FDA in 2015 and has quickly become one of the most requested fat reduction treatments in our office. Treatment protocols were developed by Dr. Judith Hellman, a board certified cosmetic dermatologist who is also experienced with other non-surgical fat removal technologies such as BodyFX.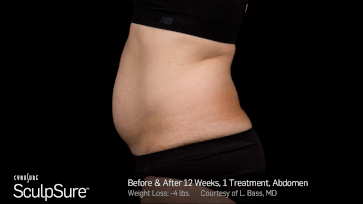 * Results may vary
SCHEDULE YOUR FREE CONSULTATION NOW
What areas of the body does SculpSure treat?
Treatment with SculpSure is delivered via four laser heads that are attached to a configurable contouring frame. The four frames can be positioned in different patterns and on different areas of the body to deliver treatment. This allows SculpSure to be used almost anywhere on the body. Some of the most popular areas for treatment include: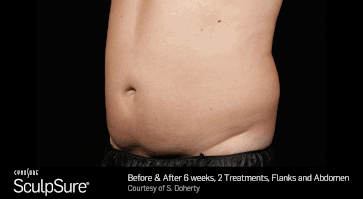 * Results may vary
Abdomen
Flanks
Hips
Thighs
Upper arms
Lower back
How is SculpSure different from other body contouring procedures like Coolsculpting?
Dr. Hellman offers a variety of non-invasive fat reduction treatments and each one has it's own unique advantages. What makes SculpSure stand out from the others is the mechanism by which it destroys fat. The device uses diode laser technology to kill fat cells beneath the skin. During a treatment session, laser energy is rapidly transmitted through the skin and into the fatty layer below. As the fatty layer absorbs the laser energy, fat cells are destroyed. Because the laser specifically targets the fatty layer, skin and tissue in the area are not affected during the treatment, making it one of the safest fat reduction treatments available today. As an added benefit, side effects are minimal and the recovery is very quick. We will be happy to explain by phone or during your complimentary consultation the advantages of SculpSure over older devices such as Coolsculpting.
Before & After SculpSure Treatment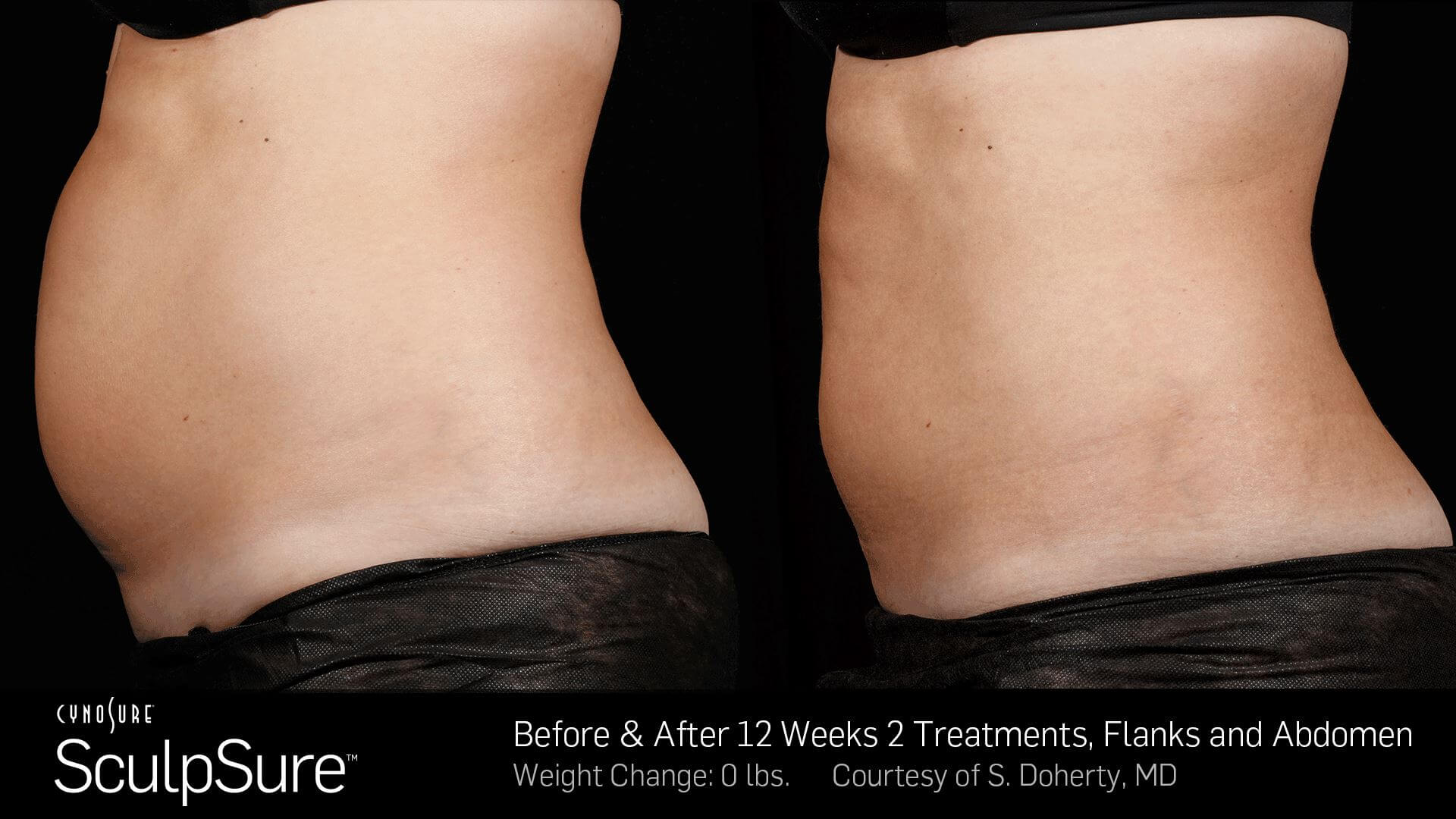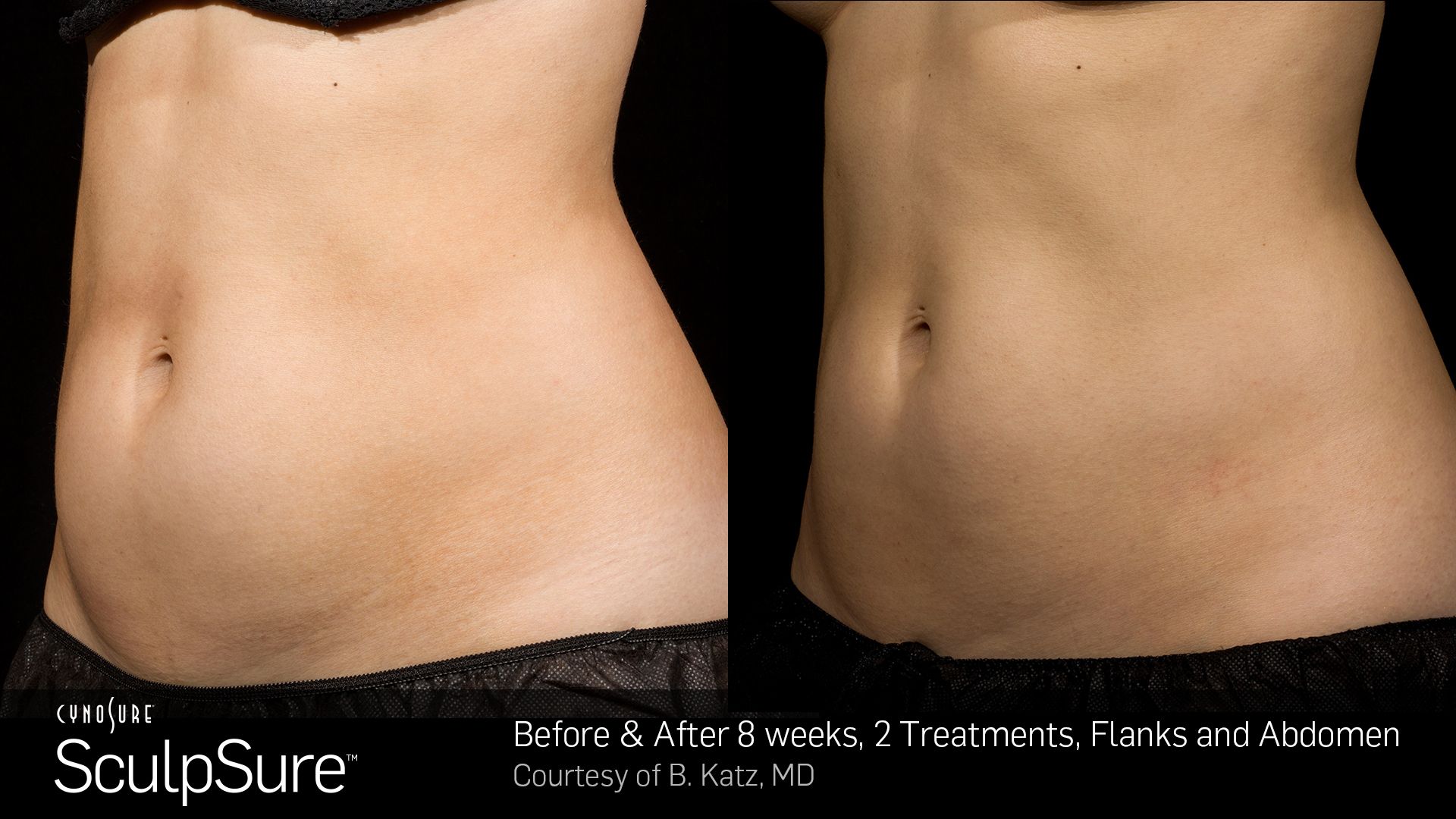 * Results may vary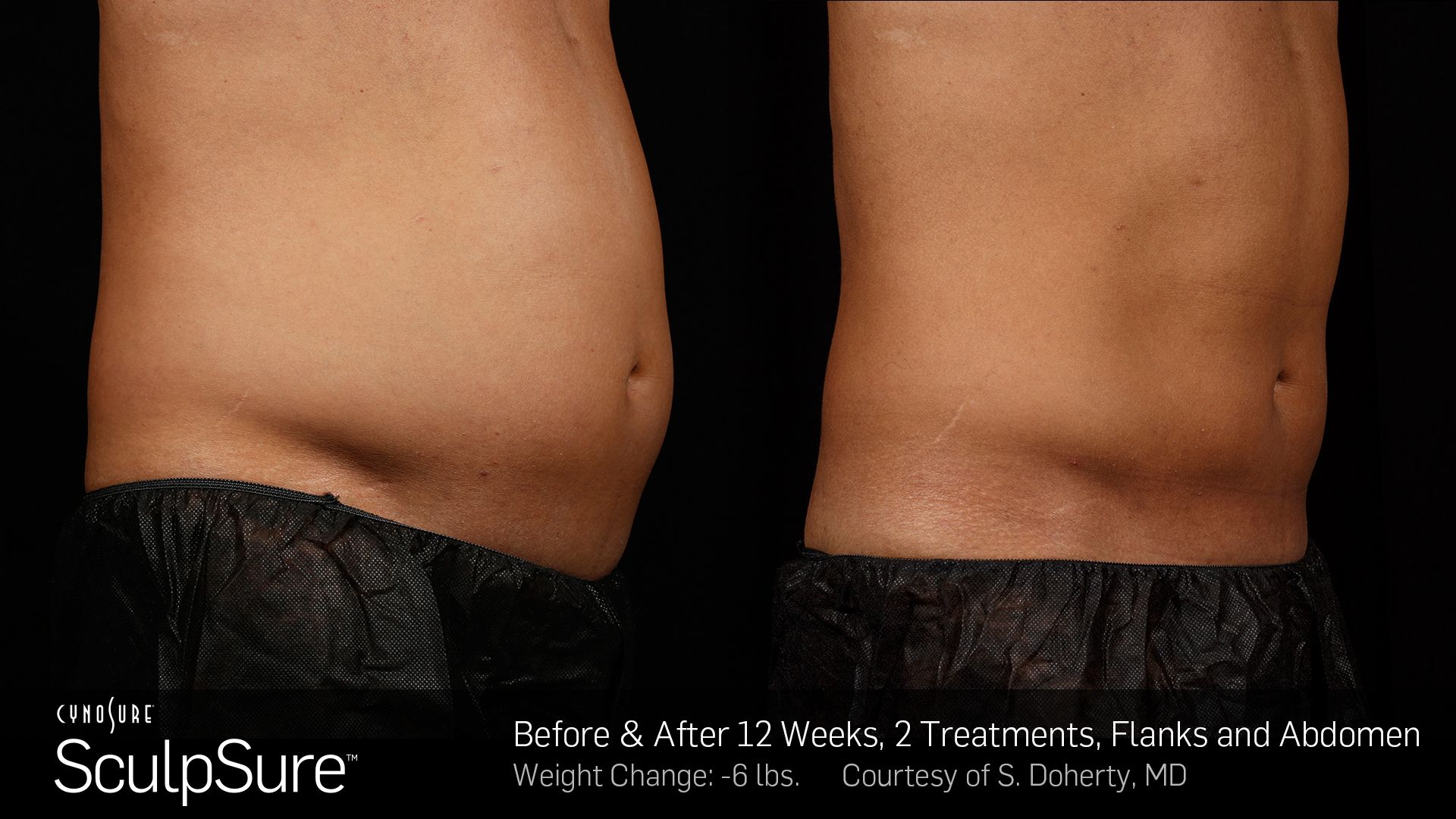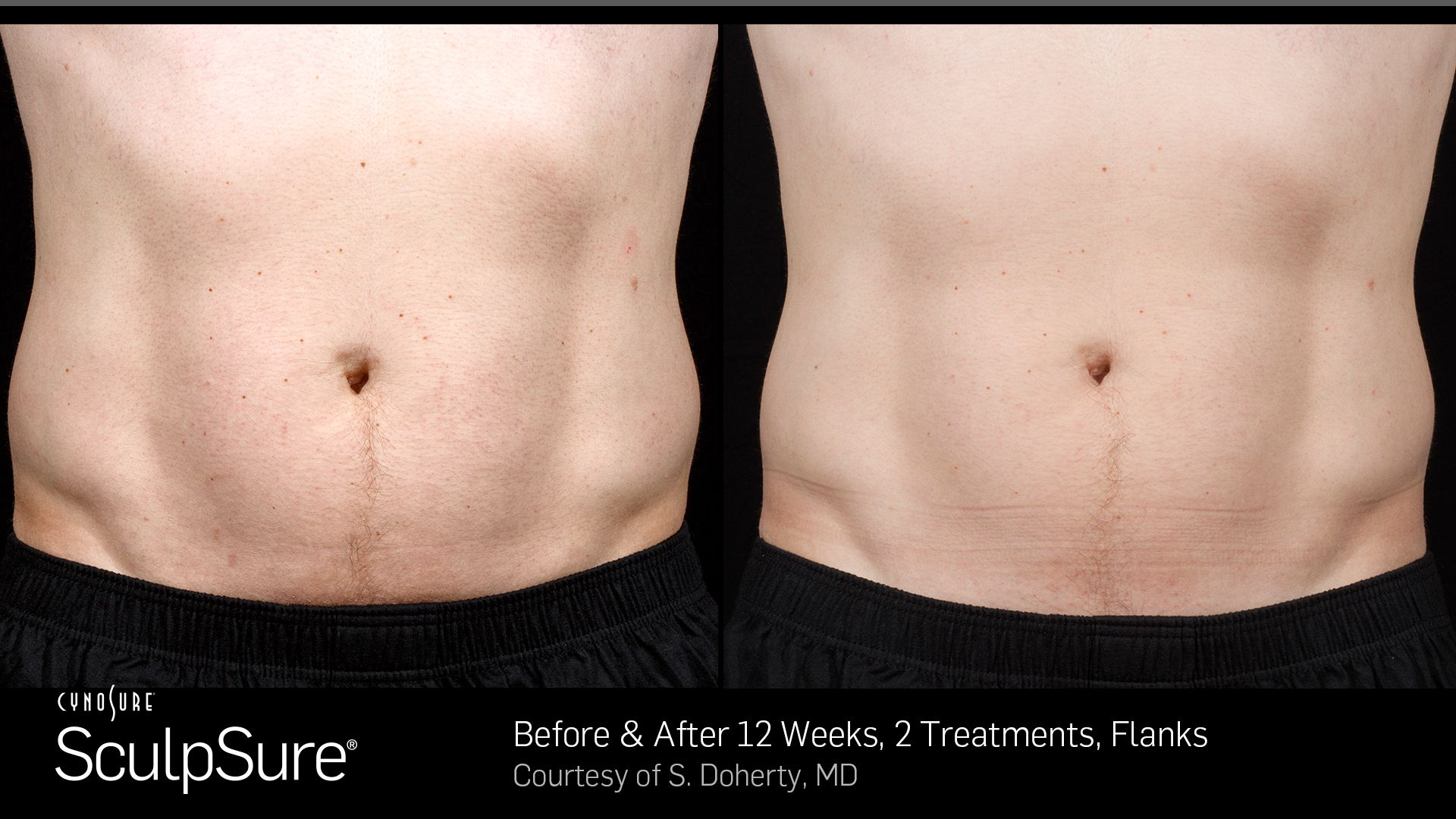 * Results may vary
Is SculpSure painful?
If you've ever undergone a non-invasive procedure, you know that non-invasive is not synonymous with non-painful! SculpSure does involve a degree of discomfort due to the heat that is transmitted by the laser. Some of our patients experience very little discomfort during treatment, while others find it more uncomfortable. It all depends on how much fat you have in the area, the number of nerve endings, and your individual pain threshold. Many patients report cramping or pinching sensations during the treatment, but Dr. Hellman is on hand at all times to make adjustments as necessary to ensure your comfort. If you are more sensitive, we can aim for a lower temperature during your session.
How many sessions are needed?
Many patients are satisfied with their results after only one session of Sculpsure. NYC dermatologist Dr. Hellman advises patients to wait 3-4 months after their initial session, to allow fat cells to be washed out of their body and see complete results in the area that was targeted. At that point, if you want additional fat reduction, we will evaluate the area and explain what an additional session can achieve.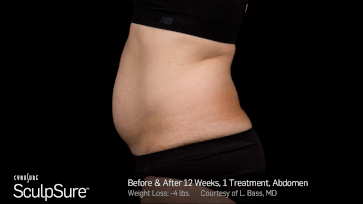 * Results may vary
SCHEDULE YOUR FREE CONSULTATION NOW
What results can I expect after SculpSure?
Most patients start to notice the effects of your treatment within 6 weeks, with full results experienced around 12 weeks. Some of our patients are happy with the results after just one treatment, but many of our patients choose to undergo multiple treatments to achieve more dramatic fat reduction or body contouring in the targeted area. If you wish to undergo additional treatments, they can be spaced 6 weeks apart.
Schedule A Consultation
For further assistance regarding any of our procedures,
Call Us Today (212) 751-0577