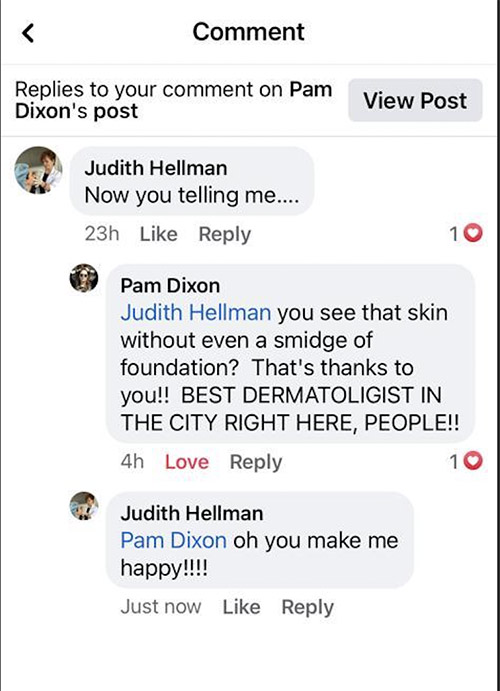 "Fractora is nothing short of a miracle for people like me who have suffered from severe acne. It is a treatment that many people do not know about, and that is truly a shame because it has the ability to not only transform a person's complexion, but also change their life. I suffered from a cystic acne flare up my senior year in college, and went to various dermatologists who told me the only way to control my acne was by taking medications, such as Accutane or Minocycline, which I was reluctant to take due to their side effects.
The second semester of my senior year in college was suppose to be an exciting time in my life, but instead I spent it locked in my house because I could not bear to have others look at me. I had become a completely different person who would cry all day and night because my appearance had changed from one day to another, and it was hard for me to accept myself the way I was. I had lost all confidence and happiness for that period of time.
Dr. Hellman was the fourth doctor I saw in four months, and am very fortunate to have found her after seeing a story about Fractora on ABC News. So far, I have completed three Fractora treatments, and have seen a tremendous improvement. Dr. Hellman improved my skin, and helped me regain my confidence and hope that my skin will go back to how it was.*" – A.R.
"After having been to many of the top practices in town, I've been with Dr. Hellman since she first opened Big Apple Dermatology 16 years ago and can truly attest that she is an artistic master in the field of cosmetic dermatology. She has helped me maintain a naturally youthful appearance that matches how young I feel, and avoid the invasive surgical procedures of my mother's generation. Friends and family members have commented how good I look, without ever surmising that I 'had something done.' In addition to Dr. Hellman's medical acumen, I very much appreciate that she takes the time to find out what you want, study your skin and then offer her best recommendation from an artillery of time-tested and cutting edge options. I look forward to entrusting my appearance in the hands of Dr. Hellman for many years to come."* – A.L.
"Dr. Hellman,
I had an immediate lifting and re-firming result and now, each morning, the skin grows thicker and firmer. It will continue to do so for a few weeks, at which point I shall go back for more. There was no marking on the face and no pain. My mom has an appointment and several co-workers have copied the info. They should; the beloved restoration project, aka, my face is loving the Re-firme results!"* – U.B.
"Dr. Hellman, I just wanted to let you know that I am starting to see the results from the laser we did last Friday. My skin is starting to seem smoother and healthier. It is the clearest it has been in several months! I think I will start going without makeup which is very exciting for me. Thanks!"* – L.A.
"Great office, great location, friendly and professional staff. I have been a patient for years and I've always been pleased with the results. Dr. Hellman is experienced, friendly and approachable. If you are looking for laser hair removal, this is the place to go. In addition, I had a thyroidectomy, which left me with a horrible scar and Dr. Hellman was the first person I thought of when I decided to do something about it. After a few visits, the scar had lost its raised appearance and much of the discoloration. I highly recommend Dr. Hellman. Give her a chance, you won't regret it!"* -Dianna G.
"Dr. Hellman,
"As my 58th birthday loomed, my neck suddenly became saggy and started to develop the texture of crepe-paper. I decided to take Dr. Hellman's advise to use a combination of Affirm Multiplex and Refirme ST treatments to tighten the skin and stimulate the growth of collagen. There were noticeable results after the first treatment and the procedure is painless. I am glad I made the decision to proceed – the results and this technology are truly remarkable."* -K.D.
"I must congratulate you for doing what no one has been able to do in my life so far. We just came back from Belize, Panama and a quick trip to Miami and I wore sunscreen AND a hat whenever I was in the sun! I don't know if it was because you scared it into me, or that your reasoning appealed to me, but it worked. Thank you."* – Peter A.
"I wanted to email you this weekend about the Silky Sheer cream- it is the most amazing cream I have ever tried. I will definitely continue using this- I was hooked the first day I put it on.I am 100 percent sure you have heard that before."* – Lorraine T.
"I really enjoy my products! [Green Tea Cleanser, Antioxidant Serum, Hand Cream, Q10 Cream, Body Lotion] I will definitely be back for more. Wish I lived closer (Tuscon, AZ). My best. Thank you."* – N.H.
"I couldn't be happier with the skin care products. The eye serum is amazing and the glycolic cream has made a huge difference in my overall complexion in a matter of two weeks."* – Daniel M.
"My husband looooves this sunblock. It doesn't show on the skin and really works."* – Karise C.
"I first came to the office in January 2012. I had a huge amount of acne on my back and shoulders and it was getting out of control. I researched the Pulse Dye Laser treatment for acne and decided to give it a shot; six months later I could not be happier with the results. I've had one laser treatment per month since my initial visit and the results are fantastic; you wouldn't believe my skin was so bad five months ago by looking at it now. Dr. Hellman and all other staff members have been extremely helpful through the entire process, and without a doubt it was worth every penny. It was a great experience, exactly what you would want when visiting a doctor. I would definitely recommend this office to a friend."* – Anonymous
"Dear Dr. Hellman,
I love the treatment! You are an artist. I had no bruising or marks, just lots of swelling for 2 days, which you completely warned me about, and which I iced continuously. After 2 days, it was almost completely gone and I woke up Saturday to a refreshed, lifted, younger face. I think you are the best! Thanks again, and I hope your holiday was beautiful."* – Warmly, N.P.
I wanted to thank you so much for the work you did, you are so talented and are the best. I am so glad I found you! Was rushing off to work today and didn't feel like I took the time to let you know how very pleased I am with the results and how much I appreciate you.* – R.
"Dr. Hellman,
After the last treatment, my under-eye area looks better than ever! I am so glad that I found you and that you solved my problem! I had been plagued by dark circles since I was a child and I didn't think I would ever find a solution to this problem. I could never thank you enough!"* – Eliana
"I just had the Fractora Skin Tightening procedure and it is amazing. I highly recommend this procedure to anyone who wants to see instant results. My skin looks tight and in fact this is my 5th treatment. People keep looking at me and saying, something looks different about you …just don't know what it is. Go for it. Totally worth it. No pain, relaxing and results before your eyes."* – Janice
"Dr. Hellman has provided me with two botox procedures. The results are fantastic! Her technique along with friendly and professional approach leads me to highly recommend her. She is just wonderful. I am compelled to also mention her staff who is courteous and professional. They help to create a comfortable and friendly atmosphere." – M.J.
Schedule A Consultation
For further assistance regarding any of our procedures,
Call Us Today (212) 751-0577
*Results may vary