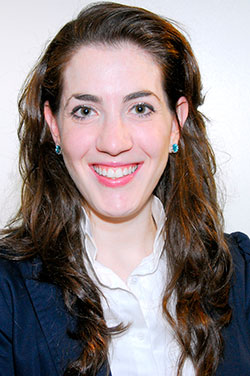 Dr. Miriam Lieberman, M.D F.A.A.D, is a NYC board-certified dermatologist by the American Board of Dermatology with excellent credentials and qualifications. She specializes in both medical and cosmetic dermatology and recently joined our dermatology office in New York.
With more than a decade of experience in chemistry and dermatology research, and having published multiple scientific articles, Dr. Lieberman is dedicated to advancing the field of dermatology. NYC board-certified dermatologist Dr. Lieberman is committed to quality patient care and dedicated to her pediatric and adult patients.
Fluent in English, Hebrew and Spanish, she offers dermatology consultations in these languages.
Active in volunteering projects and community services since 2007, Dr. Lieberman recently acted as a physician volunteer at the COVID-19 Community Plasma and Antibody Testing Drive at the Mayo Clinic and NIH and initiated a fundraiser for the purchase and distribution of PPE items at the COVID-19 Response for Personal Protective Equipment (PPE) for Health Care Workers & Hospitals in USA.
After graduating summa cum laude and obtaining her BA in Chemistry in 2010, Dr. Lieberman continued her studies at the State University of New York Downstate College of Medicine in Brooklyn New York which she completed summa cum laude as well, followed by her dermatology residency.
She was awarded the AMWA/Glasgow-Rubin Certificates of Commendation and her research work was recognized with a Commendation in Investigative Scholarship. She is a respected member of the prestigious Alpha Omega Alpha Honor Medical Society and received the Benjamin Bender Award for Excellence in Clinical Dermatology.
She is an Advisory Board Member of the Jewish Orthodox Women's Medical Association (JOWMA) and Founder and President of the Jewish Alliance for Women in Science (JAWS). She is also a valued member of multiple professional organizations in the area of dermatology: American Society for Dermatologic Surgery, the American Academy of Dermatology, and the Women's Dermatologic Society.
In her free time, she is a dedicated mother, enjoys to express herself creatively in photography and drawing and remains active with martial arts (trained in Pa-kua martial arts, Grey belt), snowboarding and tennis.
To schedule an appointment with Dr. Lieberman in New York, contact Hellman Dermatology at 212.751.0577 to book a consultation today.
Schedule A Consultation
For further assistance regarding any of our procedures,
Call Us Today (212) 751-0577